Shaping the future of your speech
Crafting innovation with NLP and transcription. The result: voice analytics
Voice transcription utilizes the power of NLP and machine learning to understand accurately what human beings say and keep evolving the system to understand new keywords. This is the basis for voice-based analytics. Not only does voice analytics software translate speech to text, it can also identify the speaker's emotion and intent by analyzing audio patterns.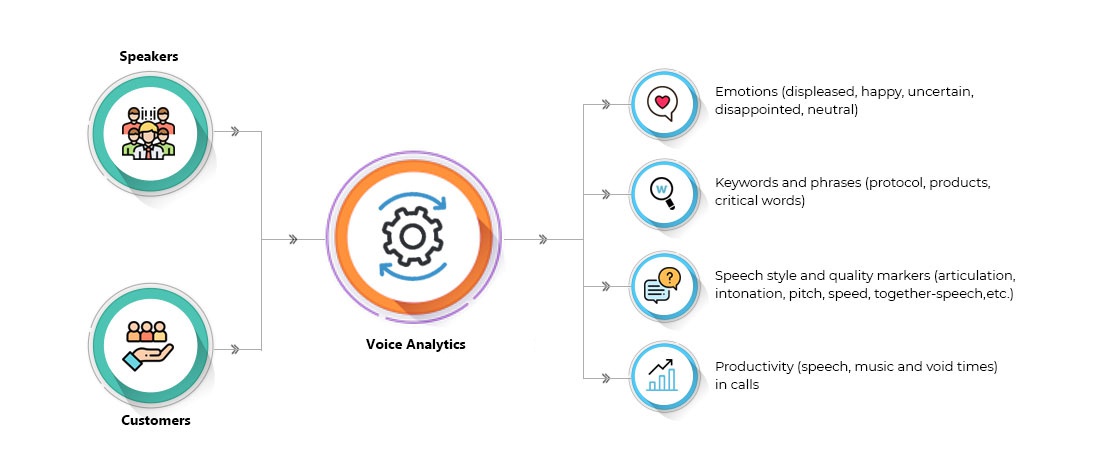 Sentiment Analysis
By understanding speech-based signals such as tone, pitch, pace, and silence, the system can predict customer emotion and sentiment. Users can filter calls based on positive, negative, mixed, and neutral sentiment to take corrective measures to improve customer experience.

Keyword Extraction
With the help of machine learning algorithms, the system extracts the most frequently used keywords or information, such as which product or competitor is most talked about. This helps users plan the direction and strategy for upcoming calls or analyze call history.

Confidence Score
It is important to identify how accurately the system can understand, identify, and categorize the words during transcription. Confidence score is suggested by the system by employing deep learning models. The score improves as the system is used repeatedly.

Entity Identification and Analysis
Entity Analysis inspects the given text for known entities-proper nouns such as public figures, landmarks, etc.-and returns information about those entities. This helps develop relationships between the topics and content while the conversation is taking place.

Topic Analysis
Identification of keywords and time stamping helps determine which topic was used in most of the conversation. It extracts the most common topics in the collection and organizes them in groups. It then maps which documents belong to which topics.

Word Cloud
The combination of free-form search and word cloud makes it easy to find conversations involving specific categories or keywords, such as product names. This capability helps analysts more deeply understand seasonal, event-driven, or other trends.
BUSINESS BENEFITS
Insightful dashboards to streamline your basic business processes

Increase Call Productivity
By identifying the time spent on hold for support calls or which discussions took more time than others, call productivity can be improved.

Organize Documents by Topic
Call transcripts based on a single topic of conversation can be easily categorized for future reference purposes, thus creating a knowledge repository.
Identify Customer Mood
Knowing your customers' sentiments and how they are reacting during calls is important to analyze. This also helps you identify what the driving force is when a purchase is made.

Improve Customer Experience
Gaining insight into customer satisfaction, loyalty, and engagement intent is exponentially beneficial for any marketing strategy.

Improve Support Calls
Analyzing the tone, pitch, and pace of voice of your customer support representative can help them understand what they are doing correctly and what needs improvement. They can also playback the most unsatisfactory calls and learn from them.
01
BOARD MEETINGS
With all your meetings recorded and audio transcripts done, you'll never miss pending tasks or other important items or statistics. Sentiment analysis can also help you understand your employees' emotional states and confidence levels in meetings.
02
CALL CENTER
SUPPORT
Speech analytics impact Key Performance Indicators like call handling time, on-hold time, conversion time, and more by recognizing patterns that can lead to best practices.
03
COMPLIANCE
Our ASR-based transcription and analytics solution enables organizations to easily locate and replay stored recordings to identify situations when compliance is not met or dispute management is required.
04
CUSTOMER
EXPERIENCE
Voice transcription and analytics dashboards make finding those important hidden insights substantially easier and can enhance customer experience through continuous improvement and quality assurance.