Development services and consulting
Top Natural Language Processing Consulting Company
Beyond Voice is one of the best NLP solution providers in the industry. They help businesses build dynamic user experiences through solutions that tap unstructured data like text, voice, audio, images, videos and convert them into highly valuable analytics and insights. Businesses can utilize these analytics for making informed decisions and predictions.
By Implementing our NLP capabilities, you can easily create a system that can understand human language and sentiments just like a person. Our NLP data developers have extensive experience in converting structured or semi-structured data into actionable insights.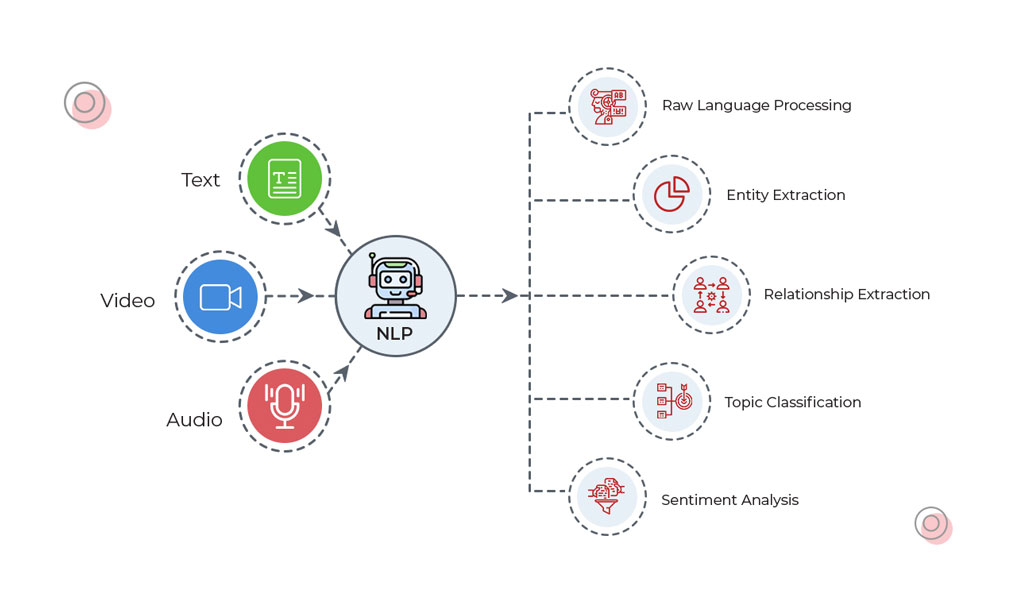 What we offers
Natural Language Processing Consulting and Implementation

Turnkey NLP project
Our experts deeply analyze your project requirements and help you with the feasibility, scope of work, cost estimation, and deadline.

NLP Architect on-demand
We provide you skilled NLP developers for your project based on your project's requirements and budget. You are free to pick and choose the skill set. We ensure quality work with our developers.
Work on your existing project
If you are already working on a distressed existing project, we can jump in with our skilled resources to improve its performance or deliverability.

Strategic consulting & implementation
We help you with the assessment, project planning, and architectural design of your new or existing project.
Custom Product & Application Development
We can conceptualize custom voice-based applications and implementations based on your needs.
Application Enhancement & Upgrade
If your existing app is outdated, we can help you with application enhancement or platform upgrades.

Content acquisition and optimization
We acquire your existing structured or unstructured data and process it in a way that helps you provide insightful outcomes.
User interface development
We develop architectural designs for your application to give the best user experience.

Application Maintenance & Support
Our voice experts can provide your application maintenance and support as per your needs and budget.

Chatbots And Virtual Assistants
We develop NLP-powered business chatbots and virtual assistants that help businesses improve customer engagement and minimize customer support costs.

Intelligent Document Analysis
We provide algorithms to discover topics, associated sentiment from customer feedbacks, emails, social data, and more.

Sentiment Analysis
With our deep understanding of tracking positive, negative, or neutral sentiment from text and voice, we help you gain better insights into customers, partners, competitors, and market trends.

FAQ Extraction
We scan multiple transcripts to identify questions and list them. This can be used to create popular FAQs for any industry, products or services.

Speech Recognition
We create systems that analyze the data in the forms of words either written or spoken and identify multiple speakers.

Risk Management And Fraud Detection
We use deep algorithms to identify potential fraud by analyzing financial and contract documents as well as specific communications.

Raw language processing
With data coming from different sources, we process your content to extract useful and meaningful insights so you can utilize it without much hassle.

Entity extraction
We locate and classifies specific words within unstructured data into predefined categories, improving entity extraction with our NLP system.

Relationship extraction
We utilize Relationship Extraction (RE) to detect and extract semantic relationships from texts, which usually occur between two or more entities.

Topic Classification
Our system provides a sophisticated understanding of linguistic nuances while identifying intent and objectives.

Text Categorization
Text categorization creates segregated structured data that is easier to search and organize, reducing errors, providing insights, and saving time.

Extract Data From PDF
With machine learning, we extract structured information from unstructured data or semi-structured data to retrieve useful and valuable information from PDFs.
WHY CHOOSE US?
We're trendsetters in voice technology.
We develop enterprise solutions for AI, NLP, and voice-based technologies, including voice transcription, sentiment analysis, and chatbots.
01
Thinking Beyond Technology
Our engineers are well-versed in the development of custom NLP and machine learning solutions using technologies like AWS, Google, and Azure-based voice services.  We ensure to handle your entire voice-based development life cycle with the highest level of quality and efficiency.
02
Our Craftsmanship
Our cross-functional teams include engineers with expertise in a multitude of different aspects of the Software Development Life Cycle. These SDLC experts include business analysts, UI/UX experts, developers, project architects, database engineers, voice tech experts, testers, and more.
03
Development method
We embrace a proven agile development methodology and deployment style to reduce risk and deliver robust applications for our clients. Clean codes, continuous improvement, and agility are integral to our working style.
04
Support and Maintenance
We deliver solutions that align with your business goals and requirements. We have one goal: Provide you the best-in-class services for maintaining, supporting, and integrating your apps to guarantee complete client satisfaction.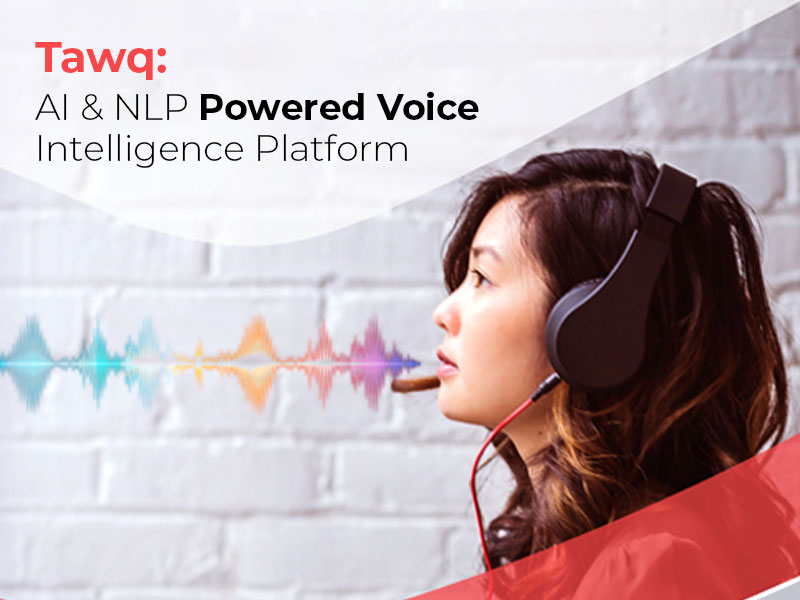 Case Study – Tawq
Tawq is a unique AI & NLP Powered Voice Intelligence Platform which is helpful to boost customer experience, agent performance, and operational efficiencies.
It has an advantage for every user. From stakeholders to managers to agents, this platform can automate your call tracking and offer insights to help you make informed business decisions.
Read the full case study